The State Customs Committee of Azerbaijan (SCC) failed to register $24.8 billion worth of imported goods from 2010-2015, resulting in a loss for the state budget of about $5 billion in taxes. The SCC blames importers, but experts say that the Prosecutor's Office should launch an investigation.
According to the SCC, in the first ten days of April 2017 importers underreported the value of goods entering Azerbaijan by 2.4 million AZN (about $1.4 million). Noting that some individuals and legal entities had submitted false invoices to avoid tax payments, the Committee announced that it had collected an additional 895 thousand AZN in taxes and transferred the amount to the state budget.
But in fact the total value of imported goods which have gone undeclared since 2010 is in the tens of billions.
The SCC has reported that $55.1 billion in goods was imported to Azerbaijan in the years 2010-2015. But according to the figures submitted by Azerbaijan's trading partners to UN Comtrade, the total value of exports to Azerbaijan was actually $79.9 billion for that period. If UN Comtrade's statistics are accurate, the SCC failed to register $24.8 billion in imports, which would have brought in about $5 billion in taxes.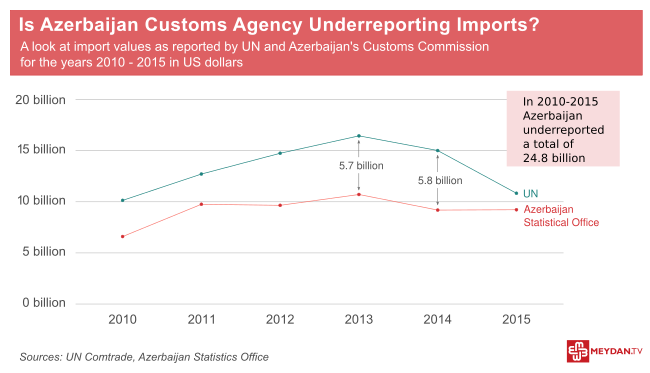 In the years 2010-2015, the SCC's statistics are consistently lower than those provided by UN Comtrade with the largest discrepancy ($5.8 billion) occurring in 2014.
In 2015 the difference was relatively much smaller, but still large at $1.6 billion. In that year about 20 of Azerbaijan's trading partners reported exports two to three times greater in value than imports subsequently reported by Azerbaijan.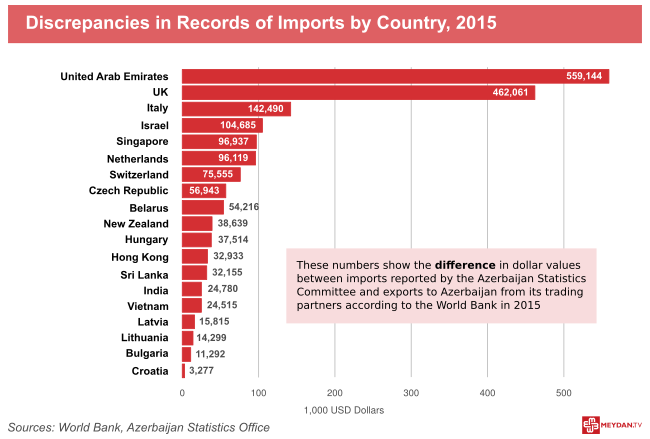 The World Bank's trade statistics database (WITS) reflects the same discrepancies. According to the WITS, its figures are taken from UN Comtrade's database. But when the Comtrade data is entered into the WITS system, transportation and insurance costs are included in import values (CIF – 'Cost, Insurance, and Freight), but not in exports (FOB – 'Free On Board). That means that the dollar value of imports will actually be higher than the value of the same goods registered as exports. Yet the SCC's import figures are often two, sometimes three times lower than its trading partners' reported exports.
In an analysis from last year, economist Rovshan Aghayev wrote that a discrepancy of 12-15% between import and export figures is widely considered acceptable for a number of reasons. 'One of the main causes of these kinds of discrepancies is the use of CIF and FOB values….But discrepancies have other causes, too. For example, in some countries low value goods brought by an individual are not registered upon importation, although their value had been registered by the exporting country. Or the exit and entrance dates of goods could be recorded differently. In the last days of December, goods could be registered in the old year, but the importing country may register them in the new year. But in any case, taking into account all objective factors, the statistics and studies by international organizations confirm that the discrepancy should not exceed 15%.'
Aghayev says that a discrepancy greater than 15% indicates illegal importation. In 2010-2014, the difference between Azerbaijan's import figures and its trading partners' export figures only dropped below 40% in 2011, while in 2014 it reached a maximum of 48%. Only in 2015 did the discrepancy shrink to 16%, nearer, but still exceeding, the acceptable limit.
In 2015 the National Statistics Office of Georgia (GeoStat) reported $240k in exports to Azerbaijan, including livestock, corn oil, and clothing. For the same year Azerbaijan's SCC reported a figure almost four times lower – only $68k.
Meydan TV was able to obtain an itemized list of Georgian exports to Azerbaijan from Georgia's Revenue Service, as well as a list of Azerbaijani imports from Georgia from the State Statistics Committee of Azerbaijan. Comparison of the lists shows that Azerbaijan's statistics are often significantly lower, failing to register some items entirely, including over 600 thousand tons of corn and other oils reported by Georgia.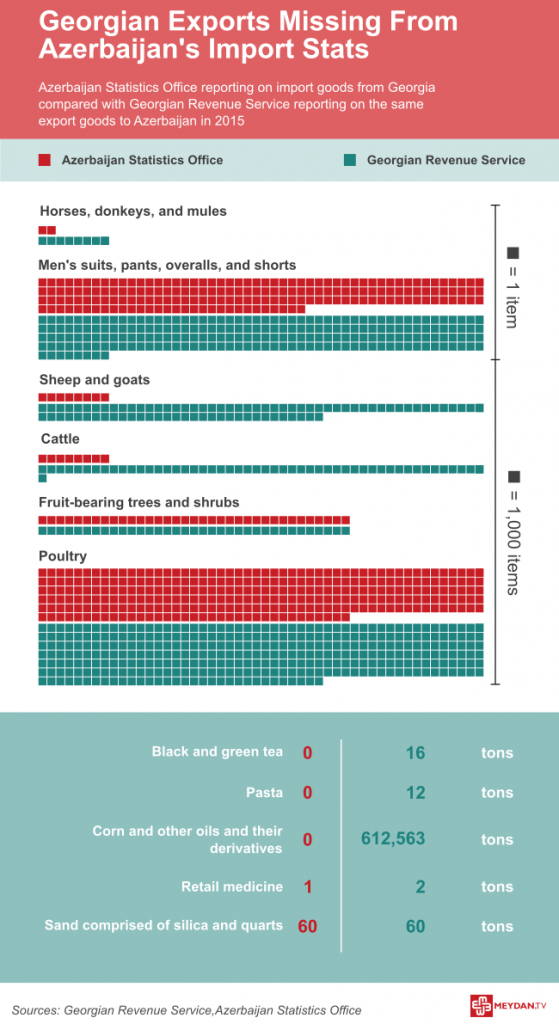 Head of the Trade Statistics Department of Azerbaijan's Statistics Committee, Aida Ibrahimova, said that the list of goods was based on the SCC's database.
Azerbaijan collects an 18% value-added tax (VAT) and a minimum 5% customs duty from imported goods. Director of the Center to Support a Free Economy, Zohrab Ismayil, says that the amount of VAT and customs duties that have gone unpaid is quite large. '$24.8 billion in unregistered goods means that $4-5 billion has failed to reach the budget and has landed in someone's pockets.'
Two years ago the Director of the Economic Research Center, Gubad Ibadoghlu, calculated that in the years 2008-2013 the import-export discrepancy was $21 billion.
Lawyer Fuad Aghayev noted that after Ibadoghlu published his calculations, the Prosecutor's Office chose to be silent rather than to open an investigation. According to him, 'When this kind of information comes to light, even if it is confirmed only in part, a criminal case should be opened.'
Source meydan.tv