Azerbaijan denied entry for Russian citizen with armenian last name. 81 years old Olga Barsegyan was born in Leningrad, survived the blockade and is a veteran of the Great Patriotic War, was deported from International airport of Baku. Of course the reason for deportation does not state it was the armenian origin. You can check official scan of deportation document – "other reasons". That what they call it!
Officially Baku does not confirm the undesirability of entry to the territory of Azerbaijan to persons of Armenian origin, but such practice exists. And this was not the first time and I think not the last.
In 2013, a Russian journalist, Anna Sahakyan was not allowed to enter Azerbaijan, later being even declared a persona non grata for her Armenian family name.

In May 2016, an 8-year-old child with an Armenian surname was denied entry to Azerbaijan at Baku's Heydar Aliyev international airport.

A Russian citizen, M. V. Uyeldanov (Galustyan) was detained in Azerbaijan over his Armenian origin in July 2016.

An Estonian citizen of Armenian origin was held at the airport in the Azerbaijani capital city of Baku for 12 hours and sent back to Estonia in late March.
The border service and Azerbaijani carriers, as a rule, explain the deportation or refusal to admit safety considerations to the board.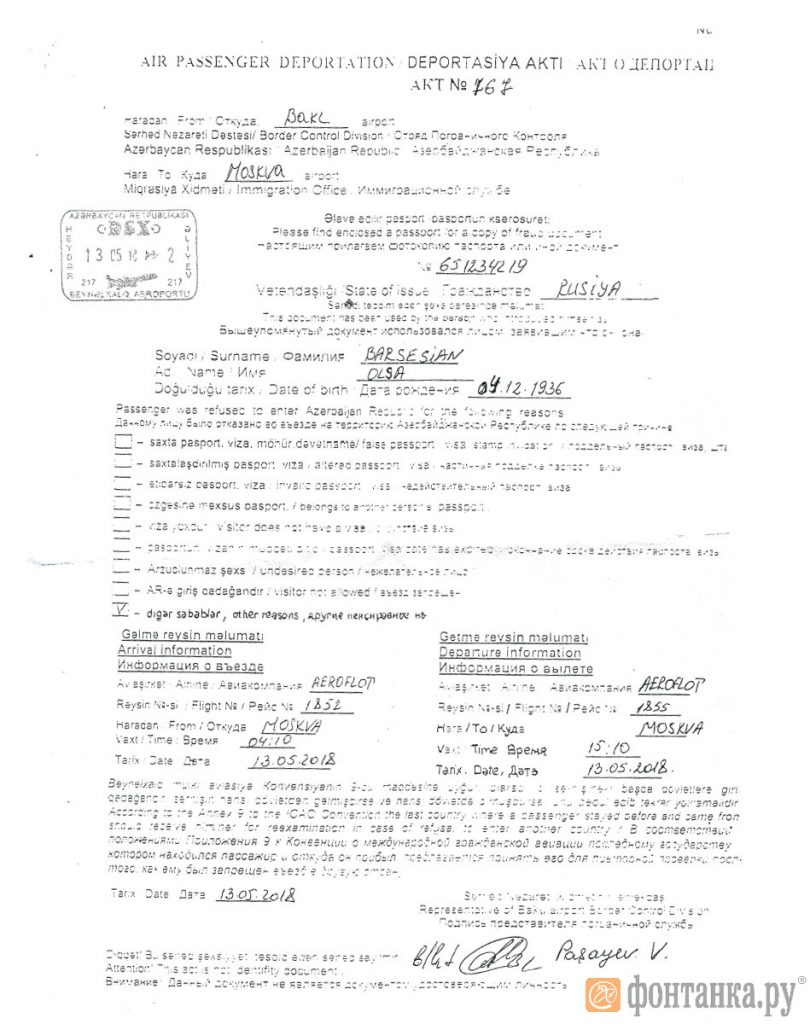 Meanwhile official Azerbaijan , in their propaganda agenda, bringing Armenians in Azerbaijan and making "shows" of it. They did it couple of times at least. The whole visit of such people was filmed and every mass media bragged about it. Look! We are so tolerant that Armenians are freely traveling to Baku. At the same time not allowing others to visit. Which brings me to the conclusion that all those "famous"  armenian, visited Baku, were paid. And were paid very well. Nothing from oil funded propaganda can be truly trusted. No matter how good it looks, there is always money behind the scene and lies everywhere!