At the same Aliyev yells at every corner about tolerance! Then the news comes out that an Armenian or an Armenian (paid of course) came to Baku and so on. On the other hand, I would like to ask Karina,  do you aware of situation on the Caucasus?
The Azerbaijani authorities deported from the Baku airport an Estonian citizen of Armenian origin, Tallinn City Council member Karine Hovhannisyan, who was not allowed to enter the country where she arrived on March 23 – to take part in the International Teachers Symposium. As "Armenpress" reports, Karine Oganesyan writes about this on her Facebook page.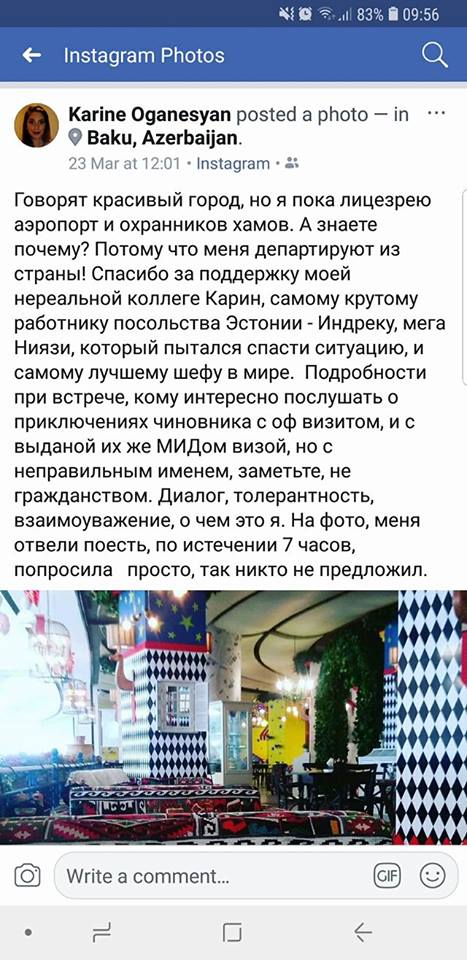 Karine Hovhannisyan received an official electronic visa, as part of the Estonian delegation, and left for Baku. Upon her arrival at the airport, the Azerbaijani authorities "noticed an omission" – her Armenian origin, banned her entry, after being detained in a special detention center for 12 hours, she was deported to Estonia.
Regarding the incident, the Armenian Ambassador to Estonia Tigran Mkrtchyan said:
"Such behavior once again shows the racist intolerance of the Baku authorities. Imbued with Armenofobia Baku once again showed a cynical attitude to such values alien to him. I hope that the Estonian side will show consistency and will adequately respond to this disgusting history, defending the interests of its citizen. European structures should not remain indifferent, since Estonia is an EU member, and Karine Hovhannisyan is an EU citizen.
And in general, if any country, for various reasons, is not able to accept all the guests and their attendants to an international symposium, then it is necessary to reconsider the expediency of holding such events in this country. "