Hasrat Rustamov, a physician and the first deputy chair of the Democratic Party of Azerbaijan, has filed a lawsuit to get his job back. He was fired on 6 October because, he says, he had attended rallies held by the National Council of Democratic Forces.
The Nasimi district court will hear Rustamov's lawsuit on 7 November. The political activist will be defending himself, but he is not optimistic about the outcome of his case. "I think so because of my previous experiences with courts and because of the state the system is in," he told Meydan TV.
Rustamov had worked at the Baku City Ambulance Station since 2012 when he passed admission exams. After attending the National Council's rally on 23 September, he started to feel pressure at work, ultimately leading to his firing on 6 October.
"Whatever grounds they cite, they are trumped up and in violation of the Labor Code," Rustamov says. "Because my colleagues said that the management was in a difficult [political] situation."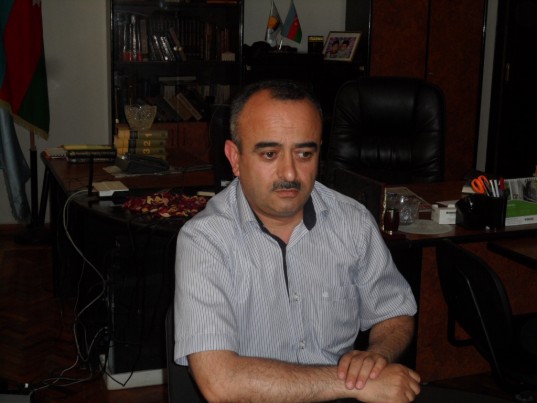 The chief doctor at the Baku City Ambulance Station did not respond to Meydan TV's questions. The press service of the Health Ministry said that they were not aware of the matter and that they would investigate it and provide information next week.
The National Council, a coalition of opposition parties formed in 2013, held its first "No More Graft" rally on 23 September. Further protests were held on 7 and 28 October.
At those protests, the leadership of the National Council sharply criticized the government's oil policy which, they said, served the interests of the Aliyev family, not the people. Dozens of people who attended the protest or even planned to attend have been dismissed from their jobs or arrested.
Mehriban Huseynli, a mail delivery person who worked at post office No 120 in Baku's Zira settlement, said she was dismissed from her job for attending the 7 October rally:
"They did it to me after the latest rally," said Huseynli, a member of a prominent opposition party called the Popular Front. "I know that they fired me from my job because I attended the rally. All this is done just to wear people down."
Mirdamat Hasanov, member of the Agsu District branch of the Popular Front, was also fired from his job at a utilities department on 2 October. He claims that he was dismissed for attending the 23 September National Council rally.
Eldar Huseynov, a member of the board of the Popular Front, was dismissed from the Economic University's Information and Economic Technologies Chair, while party member Elmi Usubov was dismissed from a medical institution where he worked as a physician. They had also attended the National Council's rallies.
Rally organizers said that they were invited to the Baku City Main Police Department and given a warning prior to the protest. More than 10 activists of the Popular Front, which is part of the National Council, were detained and received administrative arrests. They were charged with failing to obey legitimate demands from police