Azerbaijani society has never been tolerant toward sexual minorities, but no one expected the cruel and large-scale violence that occurred last year. At least a hundred people were humiliated, beaten and raped. People who were suspected of being gay were blackmailed and warned not to walk in the central streets of Baku. Meydan TV investigated the possible reasons for the police violence immediately after it happened last year and we now return to this topic to find out what has changed in Azerbaijan over the past year.
I felt like I had done something terrible
"I was absolutely desperate. I was leading a repulsive life: I drank a lot, I used drugs," Ali recalls September 2017 (all names have been changed). He says that the "repulsive" life he led seemed to help him forget what he had experienced for a while: like many other gay Azeris, Ali was detained in a surprise raid in downtown Baku. He spent several days at a police station. It still is not easy for him to talk about what he experienced – in response to every questions he says that many people, for example, transgender people, had an even harder time than he did. "Not only did they call them the filthiest words and beat them, they also shaved their heads, which was the most humiliating thing for them," Ali says.
Ali had never advertised his sexuality but it became obvious for people around him after police detained him. "I felt like I had done something terrible and that I was persecuted for it. My landlord kicked me out of the apartment I was renting, and my friends and loved ones turned away from me," Ali recalls.
Ali gradually did manage to return to normal life – there were kind people who helped him while he was looking for a job. Unlike Ali, another gay man who was detained, Murad, had a certain amount of money which helped him flee the country. Murad left immediately after he was released from the police station and now lives in Turkey: "I wanted to move to Norway, but I was denied a visa."
Murad has not been successful in finding a job and it seems he will have to go back home soon. "Of course I'm afraid, of course I don't want to go back. I'd stay here if I could. At least there's an LGBT community in Turkey, and they help each other," Murad says.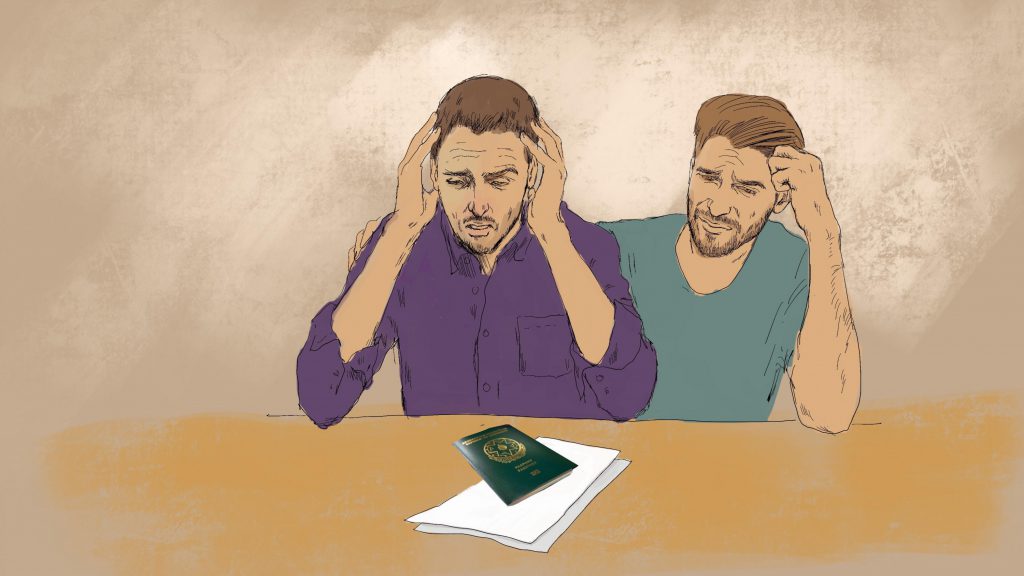 Four brave lawyers
According to official statistics, police detained 83 people during the LGBT raids in Baku in September 2017.
"Thirty-three people filed lawsuits for illegal arrest and cruel treatment after they were released," said Gulnara Mehdiyeva, a representative of the human rights organization Minority Azerbaijan and a member of the local LGBT alliance Nefes (Breath). Gulnara says that apart from physical and moral damages, those detained also incurred material damages:
"They were jailed for different terms, some for 10 or 15 days and some for 20 or 30 days. Many lost their jobs because their employers refused to take them back after their long absence," Gulnara Mehdiyeva says.
Four lawyers agreed to defend the rights of the LGBT people affected. One of them, Samad Rahimli, says that judges rejected all the complaints. The same 33 people sent complaints to prosecution agencies, but prosecution agencies did not find any criminal wrongdoing.
Azerbaijani rights activist Kamala Aghazadeh believes that lawsuits will not produce results while the country has no law defending LGBT people from discrimination. "Society absolutely needs a law that would guarantee the protection of LGBT rights," she said. Perhaps, the adoption of such a law would remove Azerbaijan from the list of the most homophobic European countries which Azerbaijan has led for four consecutive years now.
A month after the raids, the Council of Europe Commissioner for Human Rights Nils Muižnieks sent a letter to Azerbaijan's Interior Minister in which he called for "thorough investigations into serious allegations of human rights violations of LGBT persons recently arrested and detained in Baku".
No reaction followed from the Azerbaijani government.
Four suicides and five murders
Samad Ismayilov, the director of Minority Azerbaijan magazine, said that four LGBT people committed suicide in Azerbaijan in 2017. Ismayilov said that specialized organizations recorded five murders which presumably were anti-LGBT hate crimes over the year. He said those were average annual figures.
"However, these are only cases that we have managed to learn about. In reality, there are many more crimes of this kind," he said. According to Ismayilov, activists were not able to find out even an approximate number of members of the LGBT community in Azerbaijan because most people hid their sexual orientation.
Samad said no raids or large-scale assaults on gays had been recorded in Azerbaijan in 2018, but several trans people were at the police station the other day. "They were summoned to the police, asked several questions and released. However, we do not understand the reason for this interest, nor did we understand it last year," Samad said.