Aliyev's stupid provocation on the border with Armenia has once again exposed the state of the Azerbaijani people, which are endlessly subjected to anti-Armenian propaganda. And as a result, the people of Azerbaijan no longer want to live in peace
At a rally in Baku, calls were constantly being made to kill Armenians. And this is not new. 30 years of endless propaganda by Aliyev and his entourage, aimed at his own people, has led to the fact that no one wants to live peacefully.
Killing Armenians is now a trend in Azerbaijan. At the same time, both Aliyev himself and others, doomed by power, tried to prove to the whole world community that they were ready to provide autonomy with high rights to Karabakh and that all Armenians could live peacefully with the Azerbaijanis.
But who will believe in such an impudent lie? In the country that massacred in Sumgait and Baku, the country that elevated the killer to the rank of hero, the country in which the killing of an Armenian is the highest achievement, wants to seem peaceful! Only now it doesn't work out! No matter how many leaders of the country lie to themselves, the people will no longer be able to live peacefully.
In this case, I have a question for Azerbaijanis in Baku – do you want peace? Do you want to live where you used to live? But what will you do with the Armenians who have lived in Karabakh for centuries? I understand that Azerbaijan does not need Karabakh with the Armenians. Need Karabakh WITHOUT Armenians! And for this, of course, Azerbaijanis are ready to destroy an entire nation!
This looks not just wild, but terrible! We are not alive in the Middle Ages, at least the rest of Azerbaijan is the world. Artsakh got its freedom and no one will give it back. Aliyev may boast as much as he wants that we will take everything and even Yerevan, but nothing like this will happen. Aliyev is not smart enough to take any action in this direction.
The military rhetoric of the country's leadership could well lead to a global catastrophe on its territory in the Caucasus! Today, rather idiotic information has begun to appear on the news portals of Azerbaijan that Azerbaijan could strike at the Metsamor nuclear power plant.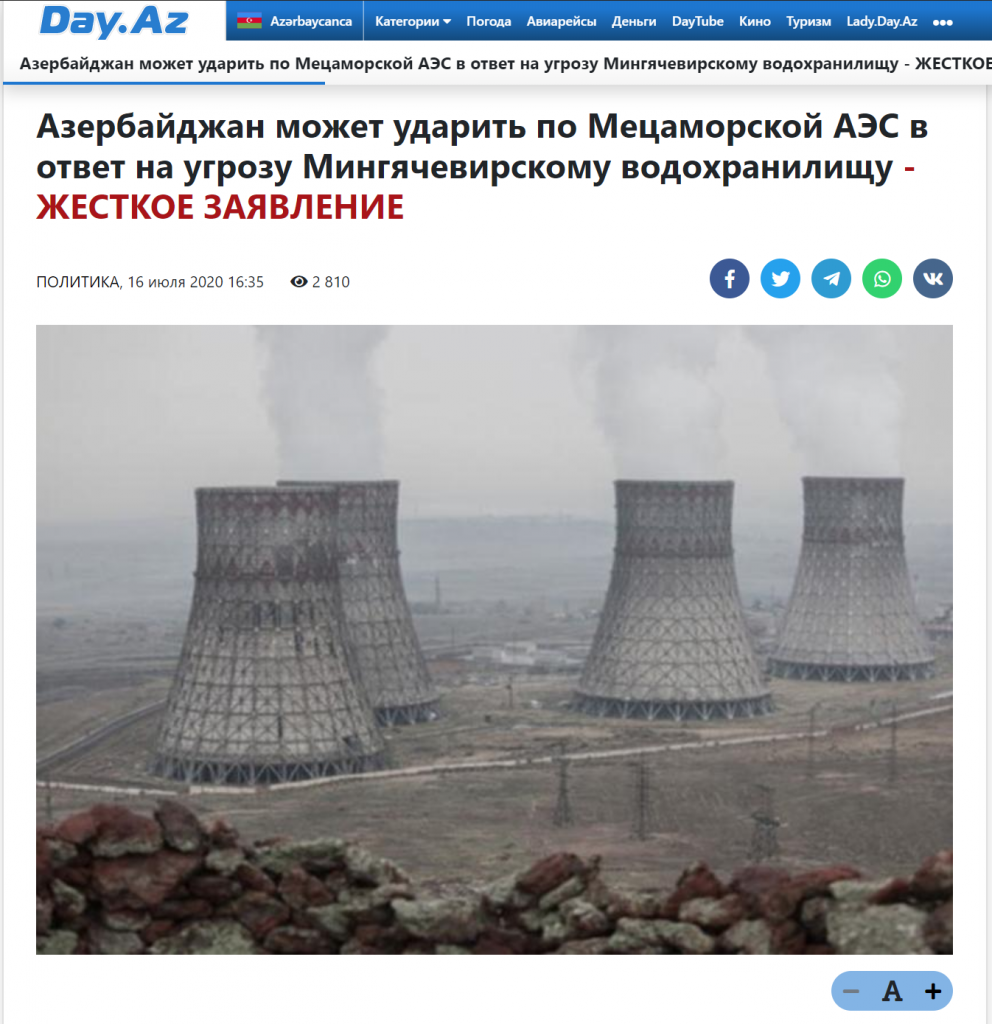 In what state of mind such people are, who can write this !? The nuclear station is located 20 kilometres from the border of Turkey. If an explosion occurs, millions of people may be exposed to radiation. This will lead to a disaster no smaller than Chernobyl.
Speeches of this kind only once again prove that Azerbaijan does not want to live peacefully and cannot even. It is not clear how the current situation on the border with Armenia will end, but one thing has already become clear to everyone. Azerbaijan does not intend to live peacefully, Azerbaijanis are ready and eager to kill Armenians! What kind of peaceful coexistence can we talk about?
Unfortunately, ordinary people do not want to think with their own head, absorbing Aliyev's propaganda like a sponge. It will not lead to anything good! A full-scale war will be the end of Aliyev's rule if he does not change his mind, which unfortunately will not happen.