Today, social media users passing through the Lachin corridor filmed forest fires on the road from Berdzor to Agavno, which will be transferred to Azerbaijan's control on August 25.
I note that forest fires are a frequent occurrence in this area at this time of the year.
A number of pro-government Azerbaijani media, which are just waiting for a reason to accuse the Armenians of various crimes, hastened to see the Armenian footprint in the fire and called on the Azerbaijani authorities to take "effective measures to neutralize the activity of terrorists", that is, the killing of Armenian civilians.
"For good reason, this tribe does not understand, therefore, unfortunately, it is necessary to convey messages to them in a language they understand," local media write.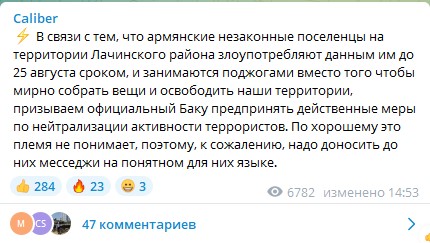 We call on the relevant authorities in Artsakh to heed these calls and strengthen the security of the residents of Aghavno and Berdzor before they leave their homes.