2016 was a very bad year for Azerbaijan banks, but it was another good year to be an Aliyev child.
Analysis of banks tied to the three children of President Ilham Aliyev shows that the trio still hold controlling shares in four banks from which they collected $82 million in profits in 2016. Overall, the Azerbaijan banking sector lost $960 million in 2016.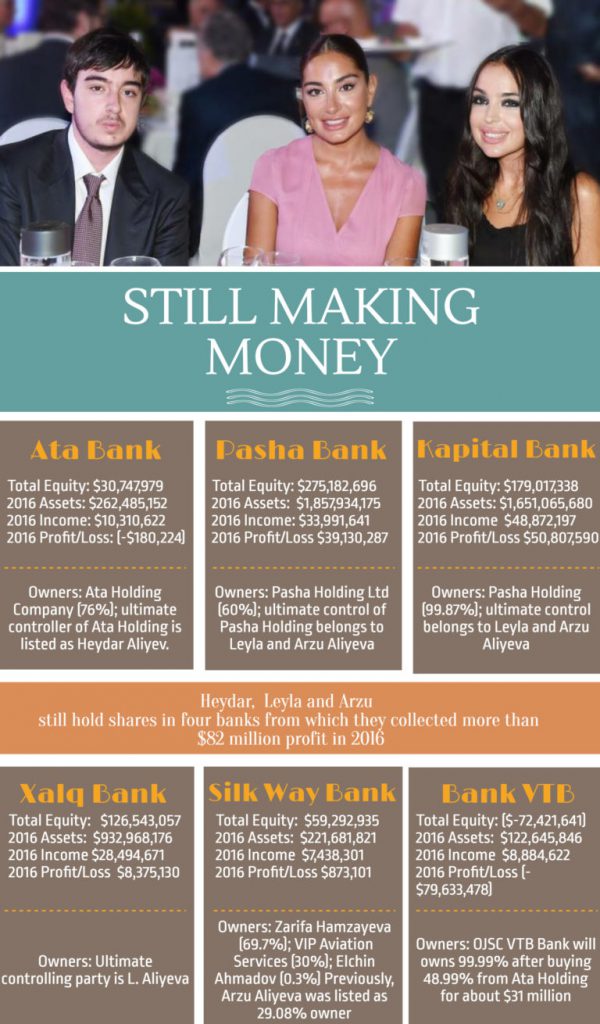 In July the family received another $31 million for its 49 percent share of Bank VTB-Azerbaijan, a disastrous operation that posted almost $80 million in losses in 2016. The buyer was Bank VTB-Russia, a Russian government-controlled group.
Daughters Leyla  and Arzu Aliyeva  retain control of the still profitable Kapital Bank, Pasha Bank and Xalq Bank. Kapital Bank has just had its rating upgraded by Moody's Investor Service, which noted approvingly that Kapital is "granting loans to corporate clients, government employees, budget recipients, and other solvent customers (which) mitigates the risks associated with the Bank's loans. " In other words, Kapital has access to the safest customers most closely tied to the national budget.
Another family-controlled bank, AtaBank, struggled in 2016, but figures to improve within weeks thanks to a proposed merger with Caspian Development Bank. According to Ata, after the deal the bank will have authorized share capital of over $67 million.
Arzu Aliyeva is no longer listed as a 29.08 percent owner of Bank Silk Way.  The parent company, which recently ordered $1 billion worth of planes for Silk Way Airlines, lists the bank's controlling shareholder as Zarifa Hamzayeva, the wife of the president of the AZAL state airline company.
Looming over all of this is the disaster that is the International Bank of Azerbaijan  (IBA). Nearly $8 billion of national budget support failed to keep the bank from declaring bankruptcy in May,  and ultimately winning approval to reorganize over $3.5 billion worth of debt to multiple foreign creditors.
IBA still holds about a 40 percent share of the banking market. It has always been state-controlled, but in the economically healthy year of 2012, 32.5 percent of its shares belong to unnamed private holders (the bank has not listed private shareholders since 2002). Now that the bank bleeds money (it estimates 2016 losses at $1.1 billion), 95 percent of its shares belong to the government, which means the national treasury absorbs the massive loss instead of  private shareholders.
As part of it ongoing bankruptcy proceedings, IBA says it is getting its bottom line in shape to privatize the bank in 2018. This same promise has been made almost annually for the last 15 years.