The senseless attack on the territory of Armenia showed that Azerbaijani President Aliyev is not going to stop there. Receiving back seven regions? adjacent to Nagorno-Karabakh? are not enough for Aliyev. He now wants the Sunik region.
Two days before brutal Azerbaijan, I wrote on Twitter:
Preparations for the attack were carried out in advance and one cannot even think about any provocation from Armenia. Azerbaijan has a standard behavior. Armenia made a provocation, and we counterattacked. The very concept of a counterattack implies first an attack, and then a counterattack, but Armenia was not attacked on September 12 this year, just like Armenia never attacked two years ago.
So why did Aliyev need tension in relations with Armenia? After all, it was Aliyev who said that the war was over and there is no more conflict, but it turns out that Aliyev was lying not only to his people, but to the entire world. If you carefully follow the events before this attack, you can see how close relations between Azerbaijan and Russia have become.
By losing another senseless war against Ukraine, Putin has plunged Russia into chaos. Sanctions against Russia hit all sectors of society very painfully. Putin urgently needed to look for ways to sell resources, such as gas and oil. With the help of Azerbaijan, Putin hopes to fight his way into Asia to avoid sanctions. The Turkish President is also interested in creating a corridor between Azerbaijan and Turkey. But little Armenia hinders them all.
If not for the complete capture of the Sunik region, then breaking through the corridor is greatly beneficial for these states. The attack on September 12 was a rehearsal to test the defense of Armenia, and to see once again how the world community would react. For Aliyev, the death of several hundred people on both sides does not matter. He repeatedly showed that the Azerbaijani people are worthless to him.
This attack opened up some rather painful wounds, and I want to elaborate on them:
CSTO
The CSTO was created as another alternative to NATO, and under the treaty, the allied states pledged to support each other in the event of an attack on one of its members. Armenia appealed to the CSTO, but what was the answer? In the literal sense, none. Support was not provided, which once again proved the complete meaninglessness of this organization.
If we recall the recent events in Kazakhstan, it will be clear that the CSTO reacted almost instantly, but in the case of Armenia, there was no reaction. Doesn't this show that in the case of Armenia, the CSTO is not a guarantor of security! Where Russia leads, everything will be done only for the benefit of Russia itself.
Azerbaijan, having signed agreements with Russia, received direct permission to carry out aggressive actions on the sovereign territory of Armenia. In turn, Armenia must break off all relations with both the CSTO and Russia. Friendship between the Armenian and Russian peoples is one thing, but Russia, fortunately, is not the whole Russian world and is not a friend of Armenia.
The people of Azerbaijan are dissatisfied
Dead in two days, according to official data, 77, and according to unofficial data, several hundred Azerbaijanis, Aliyev not only did not admit his mistake, but also began another action to suppress opposition in the country.
Just a couple of days later, after the hostilities stopped, Aliyev set to work on political opponents and activists. This time the action was massive. Anyone who was against Aliyev and condemned the attack on Armenia was called a traitor to the motherland.
Here are some tweets from oppositionists and bloggers active against the Aliyev regime:
Other activists were also targeted.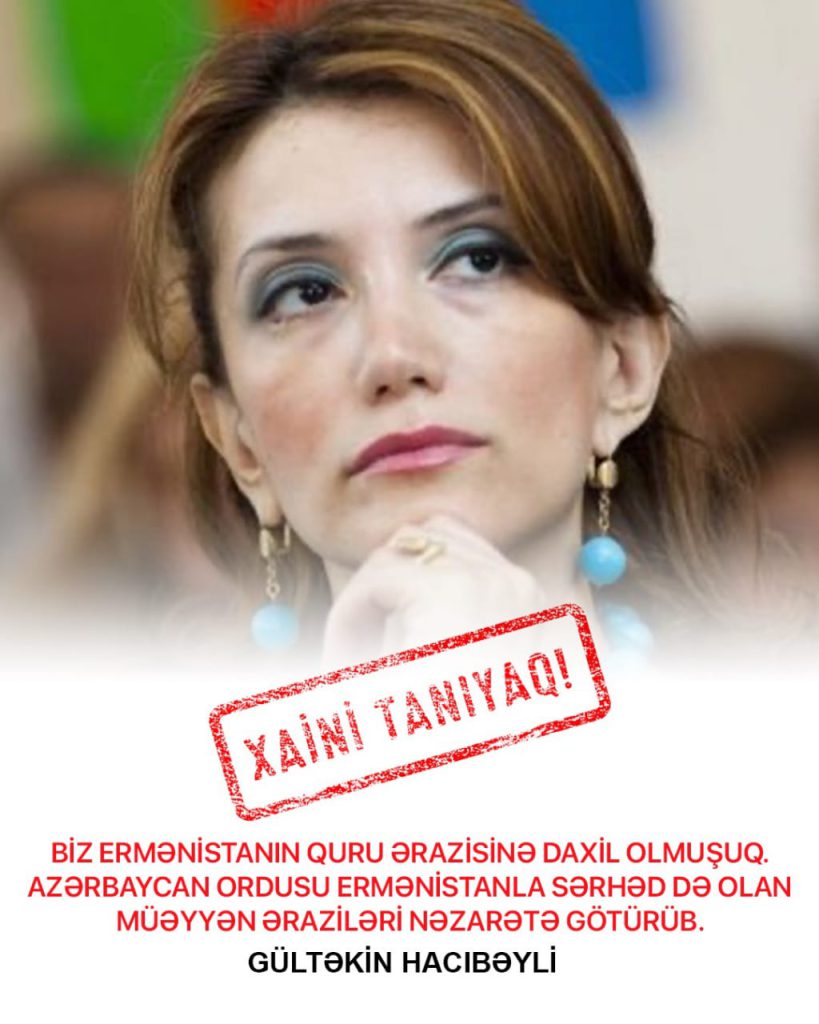 All pictures are created in the same style, which only once again confirms who is behind the information attack. Each picture contains quotes once said by the depicted person. And as you can see, it's mostly about Armenia and Armenians and against the war. With this step, Aliyev is trying to win the people over to his side, showing that these people are enemies of the state, since they stand up for the Armenians.
However, the population of Baku is already expressing its dissatisfaction with the substantial number of losses. The senselessness of the attack is understood by everyone except Aliyev himself. He continues his policy of anti-Armenian propaganda and intimidation of the opposition.
The attacks on the opposition did not start today, I have repeatedly written about such events, here are a few of them:
Musavat party member Aziz Mamiyev arrested for 30 days – I will not be silent anymore (kadamov.com)
Dissidents do not let dictator Aliyev to live happily – I will not be silent anymore (kadamov.com)
For Aliyev, the presence of oppositionists does not help. He tries by all means to destroy and suppress any resistance. For this, both well-justified means in the form of threats and violence, and innovations in the form of information attacks on social networks are used.
To my great regret, these threats are not empty talk. I spoke with Mohammed Mirzali, an exiled blogger who has been attacked several times. And I perfectly understand his situation and sympathize with him with all my heart. In the end, nationality is not important, but your outlook on life, your position. And if you are on the side of the truth, then no force could prevent you from expressing your opinion.
Yes, such people are denied access to Azerbaijan and may well be for life. Especially now, I do not advise anyone to go to Baku and even to countries where Aliyev's hand can reach you. Countries such as Russia, Belarus, from where many of Aliyev's opponents were extradited, must be avoided.
The situation in Azerbaijan itself has also not improved much since 2014, when I left this country. I would even say that the situation has deteriorated so much that it is dangerous for ordinary people to stay in the country. The "wrong" word accidentally dropped can cost you your life.
Constantly maintaining tense relations with Armenia, Aliyev is trying to distract the country from internal problems. And, unfortunately, he succeeds! Fewer and fewer voices against the war, we hear in Azerbaijan. Fewer people are trying to understand reality through the prism of propaganda. The situation in Azerbaijan now resembles the same situation as in Russia, where anyone who is against the war is declared a traitor and subjected to criminal punishment. And this, according to Aliyev, is real democracy!
The state of freedom of expression in Azerbaijan: 6 people were brought to criminal responsibility – MEYDAN.TV (d9mc3ts4czbpr-cloudfront-net.translate.goog)
Azerbaijan is ranked 157 out of 176 in the democracy index, even lower than Cuba and Belarus. So, I really do not understand what democracy Aliyev is talking about?
Conclusion
I'm not sure that any magical changes await Azerbaijan in the near future. If a dictator is in power, the country will be in distress. There will be no freedom of speech, no free press. And Aliyev will continue his warmonger ideas of erasing Armenia as a state and eliminate Armenians as a people.